Author Bucket List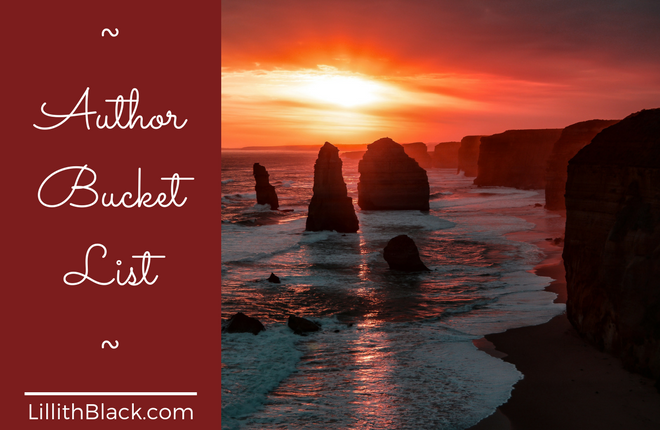 Recently I took on an Instagram challenge and one of the daily themes was an Author Bucket List. I had a bucket list of that type before, but it's been forever since I had a look at it so I decided to write it again and see if I made any progress on the items I wanted.
I realized that I didn't care for some items anymore, so I took them out, keeping the ones that still spoke to me. If I get any more cool ideas for the list, I will tack them on here in the future.
For now, here is my Author Bucket List…
My Author Bucket List:
Write a novel – Done! Published December 20th, 2014! First draft of two others completed, one is in rewrites
Become part of a writing group – 2011 and 2012
Take a writing class – 2011, 2012
Get novel professionally edited – Oct-Nov 2014
Publish a novel – Done! December 20th, 2014
Start a blog – 2013
Start a newsletter – 2014
Write a short story – 2014
Publish a short story – Oct 2014
Enter a writing contest – 2014 and was accepted into NaNoWriMo LA anthology
Win a writing contest
Complete NaNoWriMo
Join Fantasy, Futuristic and Paranormal chapter of Romance Writers Of America
Attend RWA conference
Meet my readers at one of the 'Cons or a book festival, sign and sell my book – YEAH, Done! WonderCon 2015, thank you Emery!
Write four books a year – fantasy, writing, tech tips for writers
Write a book of short stories
Self-publish a book of short stories
Get published in a magazine
Guest post for a blog – 2014, on KaylaDawnThomas.com
Attend writers conference – 2013, 2014 and 2017
Meet someone in the writing industry that you admiire – 2017, Met Mark Lefebvre of Kobo Writing</>
Join writer's society – 2013, GLAWS
Go on a writing retreat
Open a writer-friendly coffee shop with comfy seats and free wi-fi
Be a full time writer
They say if you dream it and write it down, it will happen. I'll be hard at work to make it happen.
About Lillith Black
Computer geek by day, paranormal and urban fantasy writer by night, Lillith Black hails from Southern California where the weather is great and the ocean is just 30 min away.