Top Favorite Vampire Novels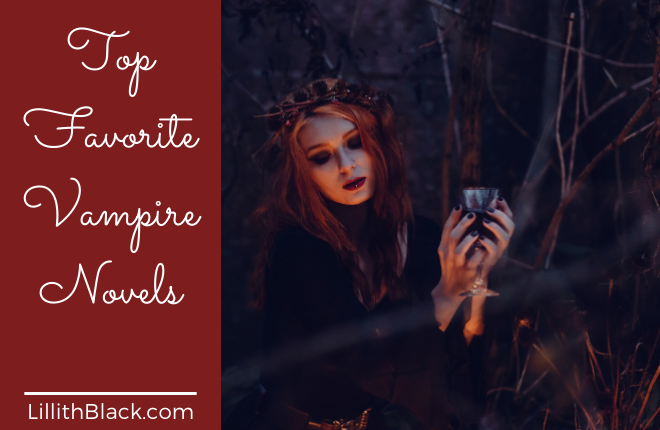 This post may contain affiliate links. This means if you click on the link and purchase the item, I will receive an affiliate commission at no extra cost to you.
As a writer, I, obviously, write. But I also read, voraciously so. I loved reading since I was really little. First, there were fairy tales (Andersen, Grimm, Perrault, folk tales from around the world: Russian, African, Moldavian, Mongolian). Then there were sci-fi books galore: Bradbury, Asimov, Lem, Strugatsky, Bulychev, Verne, Yefremov, Dick, H.G. Wells (time travel and space travel were my favorites).
And then there was paranormal. A land where fairy tales mixed in with science fiction, with some flair of romance. This is where I found the fiction I read now and where I write as well.
I have been on a real vampire kick ever since Bram Stoker's Dracula and the Interview with the Vampire kicked things off on the big screen. The idea of an immortal being and with it a promise of love that can last forever had me hooked, it's desires, torment, the decisions of what is right and what is wrong when the lifetime you have can last indefinitely.
I have been reading vampire novels ever since. And I know I'm not the only one captivated by these dark and mysterious creatures of the night.
Here are some of the vampire novels (and series) that I have read and enjoyed in the last several years.
One of the first indie vampire books gone huge, My Blood Approves is a story of Alice, an ordinary girl finding herself in a very unordinary situation. Her life is saved by a vampire and suddenly she finds herself spending every evening in a company of a loving family, mother, father and two brothers, only every single one of them is a blood-thirsty vampire.
What even better is that the brother of the vampire who saved her hates her guts, yet she feels uncontrollably drawn to him, as if her own blood pulls them together. This book is the first in the series and I recommend you get them all.
A birthday girl turned revolutionary in a vampire world, A Shade of Vampire is a book one is a huge, ever-growing vampire book series by Bella Forrest. The series has now moved past book 80, each 5 or so books covering a different group in the same world. Book one begins this universe of stories with Sofia who is kidnapped on her birthday and taken to a hidden vampire island, The Shade, where she is turned into a human slave to serve every wish of a vampire prince. As dismal as her prospect might look, Sofia is not about staying quiet. From a human slave, one of many, she becomes the changer of things on the Island, a place that has been keeping its dark secrets for centuries.
Book series turned 8-season TV series, The Vampire Diaries follows the life of Elena Gilbert, a girl from the high society of Mystic Falls who is used to getting things her way. With her parents' recent death, her life is nothing but normal, but when two vampire brothers move back into town, things in Elena's life change to never be the same. The Awakening is the first book in the series and I gobbled it up and the rest of the books in the series.
Sophia's ancestor was a witch tried in Salem Witch Trials and her mom died during an exorcism. She would brush it all off if not for incessant static noise in her head that started on the day of her mother's death and won't go away. To rid herself of it, she holds a Wiccan ritual, which begins a chain of events attracting witches, vampires and other creatures into her life. The only person she can rely on to survive is not even human, but he is all she got. Him, and her family book of spells. This book is one of two in the series, and I really loved reading it. In fact, I have re-read it a few times since I discovered it.
Ok, ok, I know. Recommending Twilight is like recommending Bram Stoker's Dracula or Anne Rice's Interview with the Vampire – everyone knows about it, seen the movies based on it, got over it. Still, and you can judge me all you want, the Twilight series has its place in my heart. The story of a teenage love, of Bella, moving from one parent to another and finding herself in a midst of life and death situations she could never see coming, when everything in her life is changing while one thing remains, immovably so, the same: vampire Edward and his love for her. I read the books before the movies came out and, after seeing the movies, was truly inspired to write my own stories.
My current read, book one of Sookie Stackhouse series, famously turned into HBO show True Blood. I've watched the show when it was on but never got around to reading the books. So, here I am, reading and thoroughly enjoying book 1, Dead Until Dark. We meet Sookie Stackhouse, a small-town waitress who has a "disability" as she calls it – she can read the minds of everyone around her. That is until Bill Compton shows up at her bar. He is tall, dark and handsome and when she is around him, she can't hear a thing, what a relief. He is also dead, or should I say, undead? Bill is a vampire, the first vampire she has ever met. He is a vampire in a world where vampires are officially accepted by the government but regularly distrusted and hunted by regular folk. As Sookie's and Bill's relationship blossoms, everything else around them gets more complicated. I love the way Charlaine writes, so light and breezy and witty, but also impactful and to the point. I have gobbled up half the book already and have books 2-5 waiting to be read as well. I'll update you on the series as I go through it.
So now that I have shared with you my top favorite vampire novels, in the comments below share with me your own favorite books about dark, mysterious and brooding vampires.
About Lillith Black
Computer geek by day, paranormal and urban fantasy writer by night, Lillith Black hails from Southern California where the weather is great and the ocean is just 30 min away.