Anthology: Believe Me Not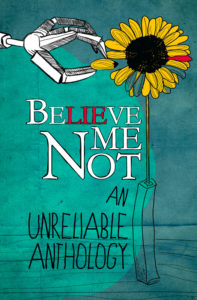 Early in 2014 I have submitted my short story for a contest to NaNo Los Angeles. The purpose of the contest was to create a first NaNo LA anthology where the stories would have same theme: an unreliable narrator.
A given phrase had to make a meaningful appearance in the story and it was "a cuticle on a space station". Since sci-fi is my favorite genre, I jumped to the challenge and wrote a short sci-fi story which eventually bore a title of "In the Event of a Migraine Take A Snot". I have submitted the story and decided not to think about it, so, when a couple weeks later I received an acceptance email, I couldn't believe my eyes. I was jumping and clapping my hands and squealing like a little girl. I was extremely happy!
I worked with Sara McBride and her crew to edit the story and put the book together – an incredible, rewarding experience. At last, in the beginning of October 2014 the book was published by Lemur Publishing and we celebrated with a release party with our friends and families present. It was an amazing experience through and through.
The proceeds from the sale of the anthology benefit young writers group and I'm excited to be a part of that effort.
Get It Here